It's movie night every one! Kick off your shoes, roll down the big screen and pop the the pop corn. Tonight's movie is Faith of Our Fathers (2015 edition) it comes from

FishFlix.com ~ http://www.FishFlix.com. FishFlix is christian based movie company. That produces wholesome faith based movies.
Faith of Our Fathers is a Vietnam War movie although it is rated PG. Run time is about 95 minutes. It sells for around $9.99 so its budget friendly and you can click the link above to go right to it. The story line goes a little like this, two young fathers have to report for duty to Vietnam. One man has loads of faith and the other does not. Through there journey together they become friends and so much more. Twenty-five years later their sons meet and using letters written by their fathers while on the battlefield, and they make an incredible journey to the The Wall in Washington D.C.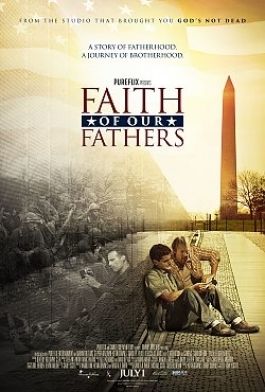 I am the daughter of a Vietnam Vet, things that honor our veterans are very close to my heart. I love movies that tell a story me and my family can relate to. What made it even better is that it is faith based and it has some amazing lessons and messages in it that I want my kids to hear
. This movie tells a touching story of two fathers and the love they have for their sons.
More importantly it tells of one mans journey to help his friend to find faith in God. Then through their fathers letters the journey continues for their two sons. One son lives a life of faith and the other not so much. Together they take an epic journey to the The Wall in Washington D.C. along the way they discover what their fathers discovered out on that battle field.
This was not a high

tech

special effects, million dollar film. But it was realistic enough to be

believable,

the movie also offers clean language. You wont find even one f-bomb in the entire movie. We found some funny moments in the movie my oldest liked when Si Robertson from Duck

Dynasty appeared.

We also enjoyed the touching moments and the

spiritual

messages that were taught. A
few battle field scenes are included in the movie. It

wouldn't

be a movie about Vietnam with out it. But I felt they were done in a way that was suitable for younger viewers. Its not a blood and guts type of movie. It does not show

arms being

blown off like some war movies show. I know some might think that mild battle field scenes make the movie

seem less realistic but for us it made it

suitable

for my younger viewers. There is so much more to the movie than special effects and people getting

blown

to little pieces. If you are looking for a bloody action packed movie this is not going to be it. But if you are looking for good

spiritual

messages and some amazing life lessons that everyone needs to hear than look no farther.
Faith of Our Fathers
is the movie for you and your family.
Get social and Check out Fishflix:
Facebook:
https://www.facebook.com/fishflix
Twitter:
https://twitter.com/christiandvd
Pinterest:
https://www.pinterest.com/fishflix/
Google+:
https://plus.google.com/+Fishflix/
YouTube:
https://www.youtube.com/user/familychristianmovie
Be sure to click the Banner below and read what Crew Members are saying about other FishFlix movies.