We are discovering new learning products left and right these days. Visual Learning Systems is the newest addition to our arsenal of learning products. You can check out there site here at
Visual Learning Systems
. There are two levels to Visual Learning systems.
Digital Science Online: Elementary Edition (Grades K-5)
. Then there is
Digital Science Online: Secondary Edition (Grades 6-12)
. We have mostly been using the Elementary Edition for grades K-5.
Visual Learning Systems' is a online science publisher that provides quality videos and content to help students get more out of learning. Through the use of videos, interactive graphics, images and teachers guides, Students get to learn in a new way. Digital Science online elementary edition (grades k-5) or the Digital Science online secondary edition (grades6-16) are yearly subscriptions. You will subscribe to either the elementary edition or the secondary edition depending on your children's needs. You could possibly subscribe to both if you had children in both levels. A yearly subscription runs for $99.00.
We have been using Digital Science online as a supplement to our current curriculum. We have been using between 2 and 3 days a week. It has been a wonderful addition to our current science lessons. The video lessons are on the top of the girls list of likes about the site. The videos in the lessons are nice and sharp. The sound is clear and easy to understand. The videos even play well on my super slow internet. To find a lesson you simple select the subject and it opens a selections of lessons that are available for you to use. For us this means I would pull up content that pertains to the unit we are currently studying in our main science curriculum. Last week we were reading a unit on muscles. I logged into Digital Science Online and found the subject I needed. I then selected a video or videos that had to do with the human body and the muscular system. The girls could then watch the provided videos. You can either select to watch a single video or you can have it play all the videos for that lesson. After they completed the video lessons I could then go to the teachers guides tab and pull up one of the printable activities or work pages as my kids call them. The work pages in my 2nd graders grade level range were simple enough for her to understand with out too much help from me. The work pages for the human body and muscular system were a little above my k5 head since it was an upper elementary lesson. She does love the videos and I feel that she gets more from them than just having the information read to her. There are also pre and post test available for each lesson. I found these to be very useful as I am not all that great at writing my own test. The pre and post test are mostly multiple choice, fill in the blank or true/False.
This last week we are learning about the digestive system. We had done lessons in our main science book but the girls just couldn't picture how it all worked. I was able to go to Digital Science Online and quickly find some really great videos and pictures to help them see what's going on inside there body every time they eat or drink. While the lessons were a bit above there grade level. The girls understood and remembered more from the two short videos they watched than they did from the hole lesson we read about in our science book. The work pages and pre and post test were too hard for the girls grade levels so we did not try them out for this particular lesson. They now get how there food is digested and will gladly share the process with you if you ask them.
Some times our science lessons just need that little extra something to help them get the big picture. Like many kids mine are visual learners. Digital Science Online is amazing for kids that need to see it to understand it. Visual Learning Systems is a great way to give your classroom a little boost and make learning a little more fun. I don't believe I could use visual learning systems as a complete science curriculum. My girls would go through what's offered for there grade level way to quick. But it does make for a really great supplemental material. It has become very helpful to both me and the girls. Digital Science Online by Visual Learning Systems hit the nail on the head. The site is easy to navigate and the content is great. One of the best parts Is, I don't have to worry about inappropriate ad's because there are none. All the videos are safe for my kids to watch unlike some of the other free video viewing sites out there that contain ad's.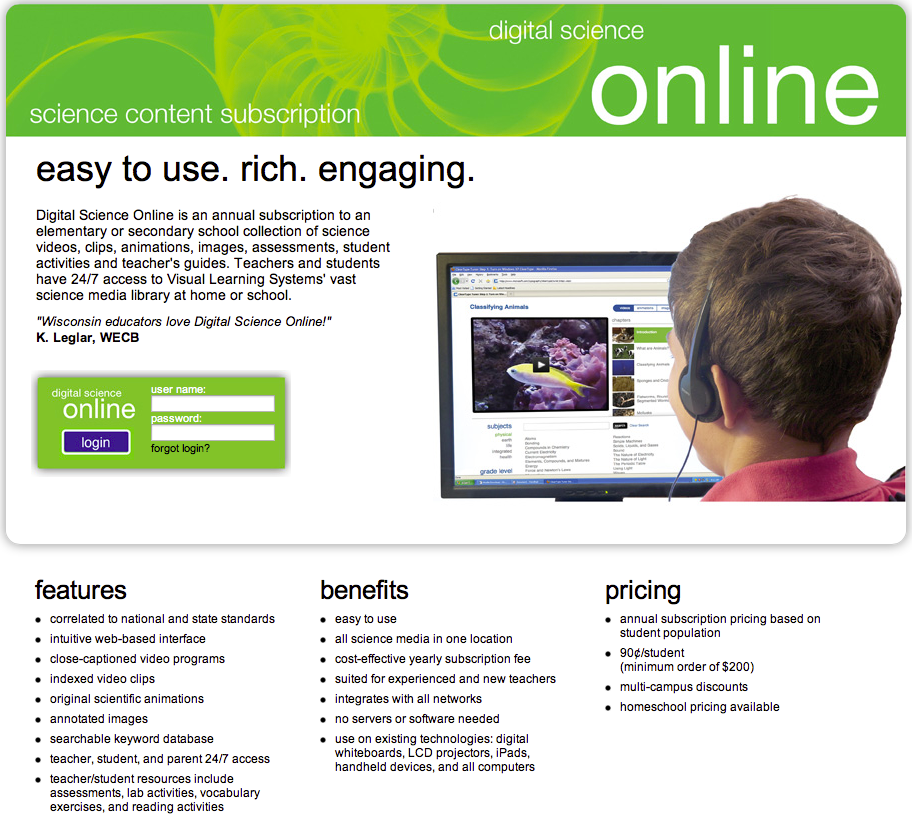 Social Media:
Facebook -
http://facebook.com/visuallearningsystems
Twitter -
https://twitter.com/visualearning